I am excited to be participating in Photos for the Flood this weekend.
Sarah B. Gilliam
has been gracious enough to organize this fund raiser for Nashville flood victims. Below is the except from her blog, including the list of Nashville photographers that are volunteering their time for this worthy cause.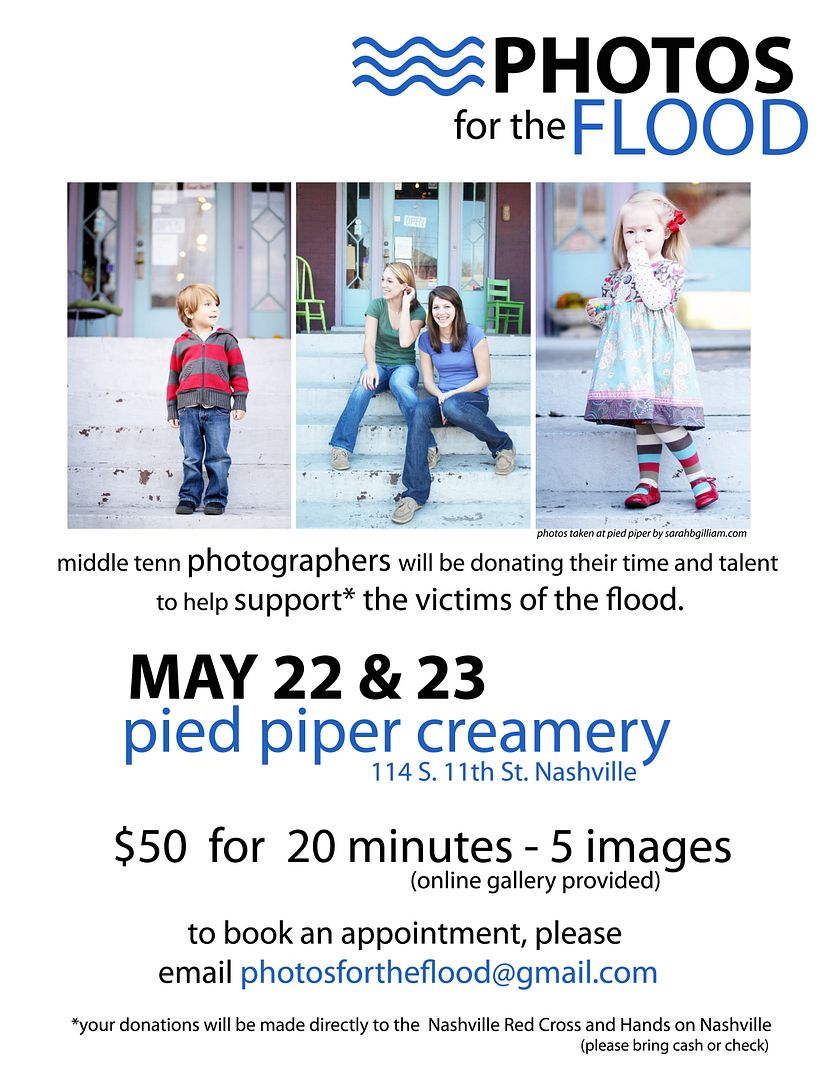 After the flooding in our wonderful state, I'm sure many of you want to help those affected by flood. Maybe you have already, or are unable to roll up your sleeves or you were affectedd, too.
Please join me, my favorite ice cream shop- Pied Piper Creamery and my fellow photographer friends in a benefit for the victims of the flooding.
The sessions are 20 minutes (booked every 30 min) from 9 AM- 5 PM on Saturday and from 10 AM-6 PM on Sunday. 100% of the proceeds will go to the Nashville Area Red Cross and Hands On Nashville.
There are NO rules for this shoot- take advantage of the talent, folks- this could easily be your engagement photo, 1 year pictures, updated family photo, senior picture, pet portrait... Just know that you have 20 minutes. :)
Bring some props, bring a friend, bring a giving attitude!!!
Pied Piper Creamery will be donating 25% of their profits from this weekend to these organizations as well. So grab a homemade waffle cone and a homemade icecream for the road, for bribery, whatever ;)
Here are a list of the incredible talents donating their time:
Abby Gray www.abbygrayphotography.com
Alisa Whitley www.alisawhitley.com/blog
Allan Williams www.awilliamsphotograph.com
Amber Vongsamphanh www.lotusblossomphotography.net
Donna Butler www.photographybydonnalee.com
Erin Lee www.doveweddingphotography.com
Jessica Winn www.jessicawinn.net
Heather Latimer www.frogsandfaeriesphotography.blogspot.com
Kate Crafton www.katecrafton.com
Kreslyn Ruckman www.kreslynruckman.blogspot.com
Kristen England www.kenglandphotography.com
Kristen Steele www.kristensteelephotography.com
Marcia Truitt www.inarastudios.com
Margo Keene www.margokeenephotography.com
Matt Dudley www.mattdudley.com
Megan McGee www.meganmcgeephotography.blogspot.com
Melanie McLellan www.mclellanstyle.com
Phil & Mindy Thorton www.phindystudios.com
Sara Rose www.saraerosephotography.com
Sarah Richmond www.averystory.com
Shane Irwin www.shaneirwinphotography.com
Shea Halliburton www.byshea.com/blog
Summer Hillesheim www.whitehillphotography.com
Wendy Cunningham www.wendycphotography.com
Whitney Carlson www.doveweddingphotography.com